lockdown in pictures.
To temper the pressures of the COVID-19 lockdown life, I started to look at the pictures on my walls again and to document why they're so important and beautiful to me.
Lockdown has been tough on us all. I'm hugely thankful to have a garden, a dog and a nature reserve on the doorstep, so getting outside for some exercise and vitamin D has been a breeze.
When restrictions were at their tightest and work at its sparsest, being stuck at home made the days long, monotonous and frustrating. Shoes were polished, drawers tidied, vinyl rationalised, books read, filing filed, borders dug.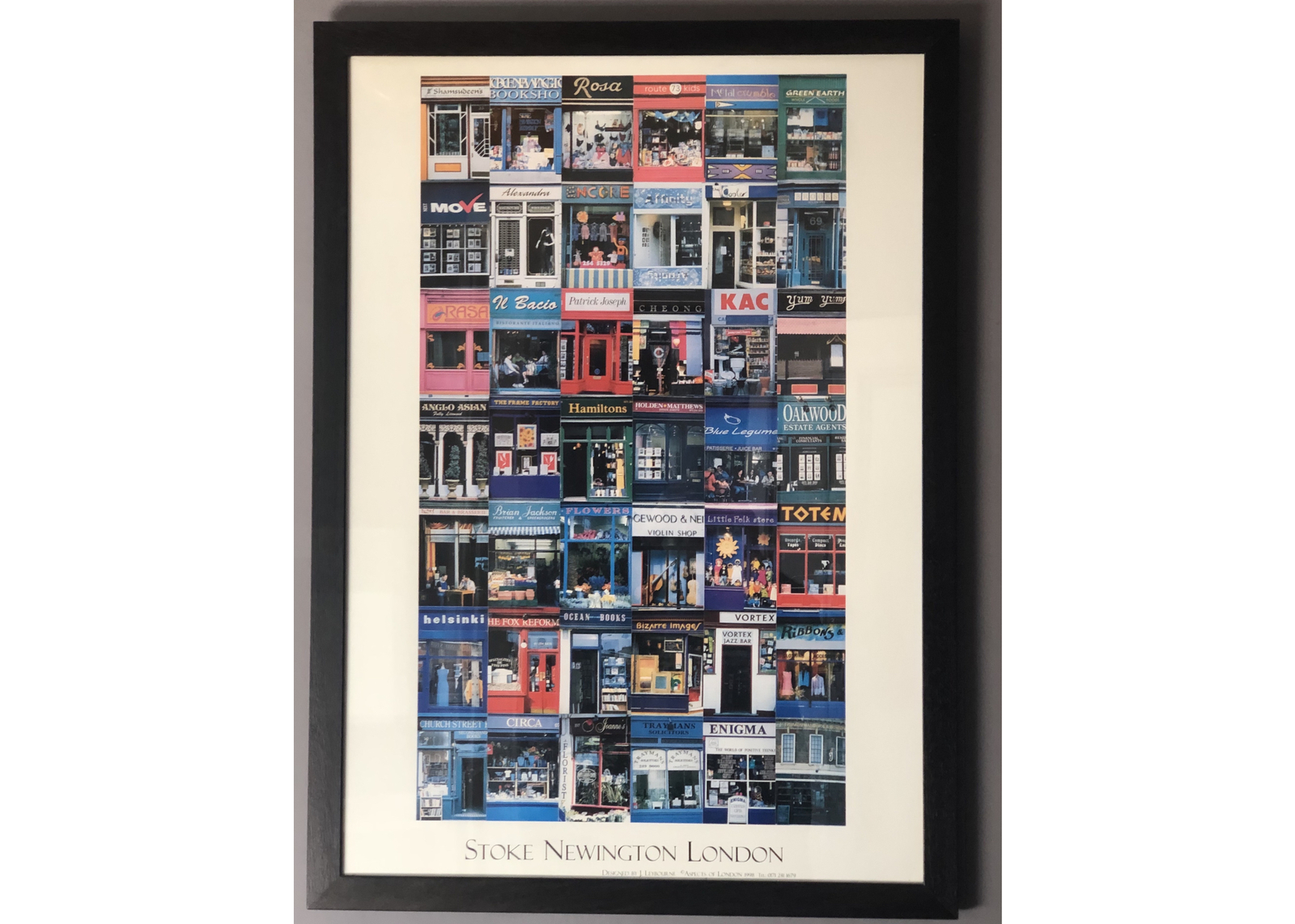 Stoked: Shop fronts on Stoke Newington Church Street, London N16, when Deb and I lived there from around 1993-1999. A reminder of one of the happiest times of our lives. Designed by J Leybourne, 1998.
And, yes there was the odd familial set to, with a house unaccustomedly full and crankiness levels high. You just longed for the simple pleasures — a pint in a pub, a night at the cinema, simple human contact and good company. Still do, come to that.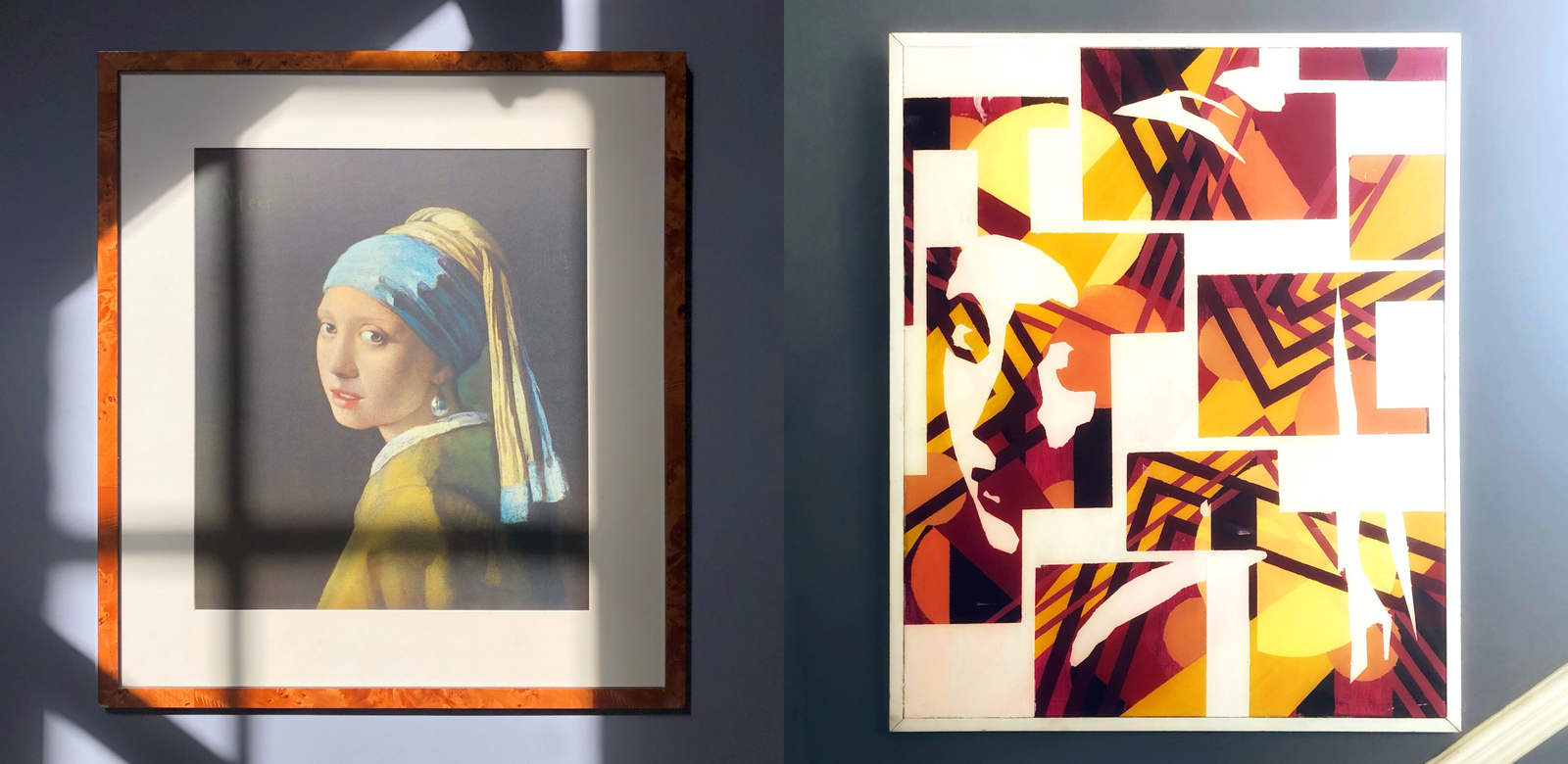 Pearls before swine: Vermeer's 'Girl with a Pearl Earring' bathed in sunlight, and my son Willem's 'White Wallpaper', a post-modern deconstruction, that references Piet Mondrian and Charlotte Perkins.
In a bid to amuse myself and keep my writing muscle exercised, I restarted my novel, contributed to a collection of 'lockdown' poetry for charity, carried on with my band logo project (www.bandlogojukebox.com), tinkered with our new and very orange website, and put in the miles on the exercise bike.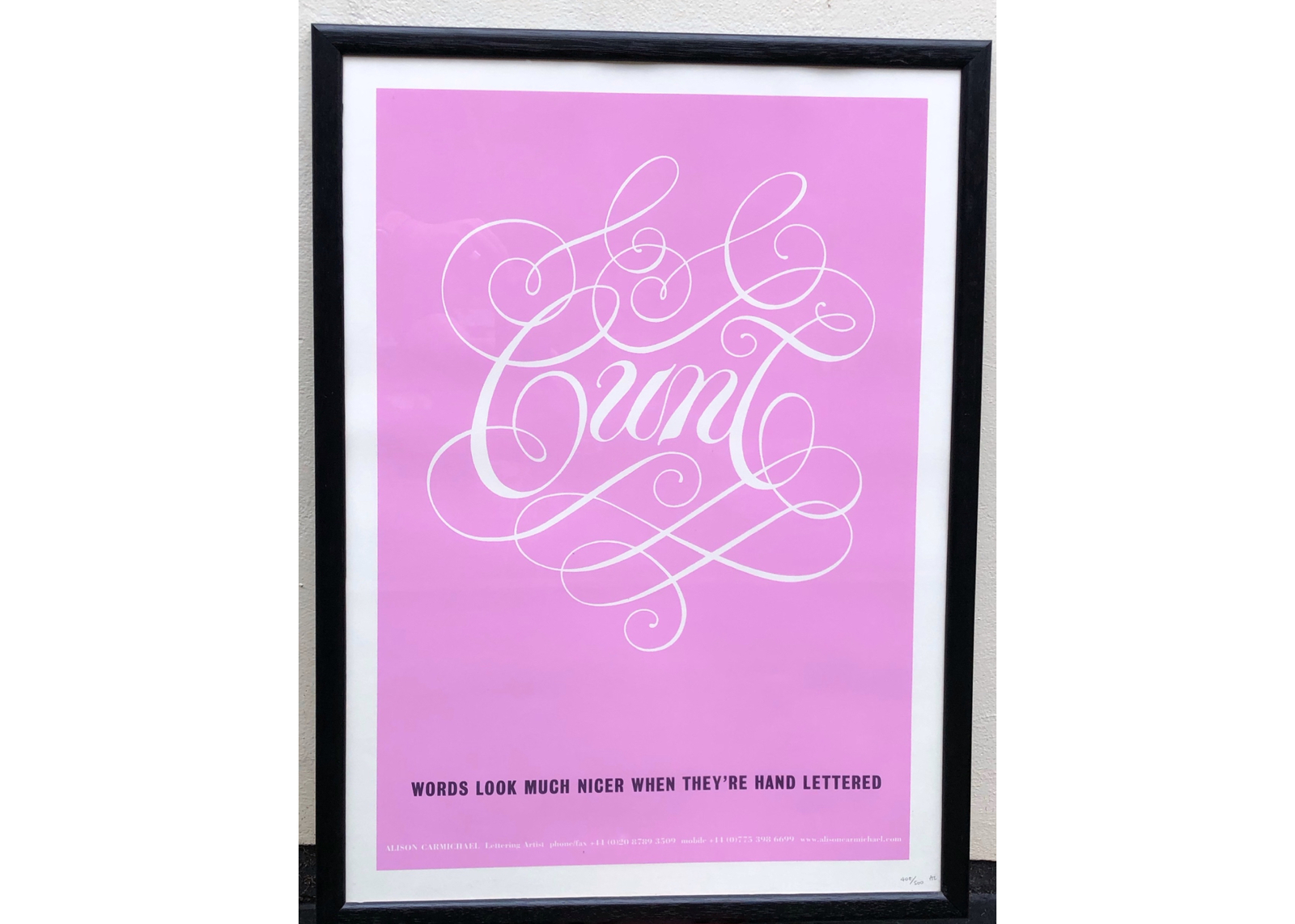 Mark my words: a present from adland legend Mark Denton, the controversial C poster that kickstarted lettering artist Alison Carmichael's career.
And I also started to stop and appreciate the things around me at home. To look at them with fresh eyes, to remember when, why and how they came into our possession, and what they mean to us. Particularly the art on our walls. Too often these images we love literally become part of the furniture.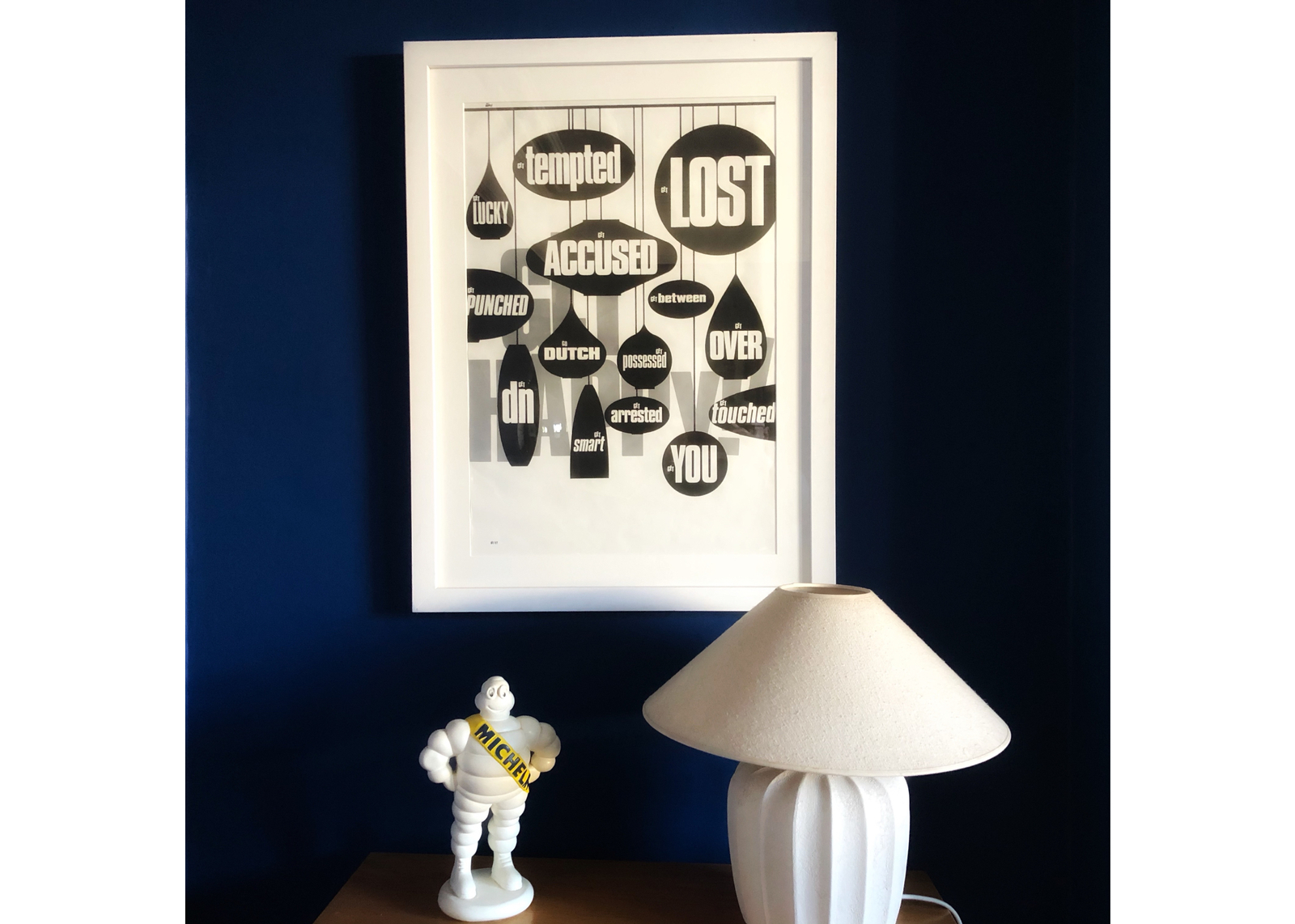 Forever Bubbles: 'Get Happy', a limited-edition Barney Bubbles print from Elivis Costello's 1980 album of the same name.
I'm lucky to have many designer friends who've kindly given me posters or graphic ephemera over the years. I've picked up prints abroad or inherited pieces from my parents. Some of my own words have been transformed into artworks for various commissions and side projects. In short, there were plenty of stories to tell, so I started photographing the pictures on my wall in situ, writing extended captions about them, and posting them on Instagram.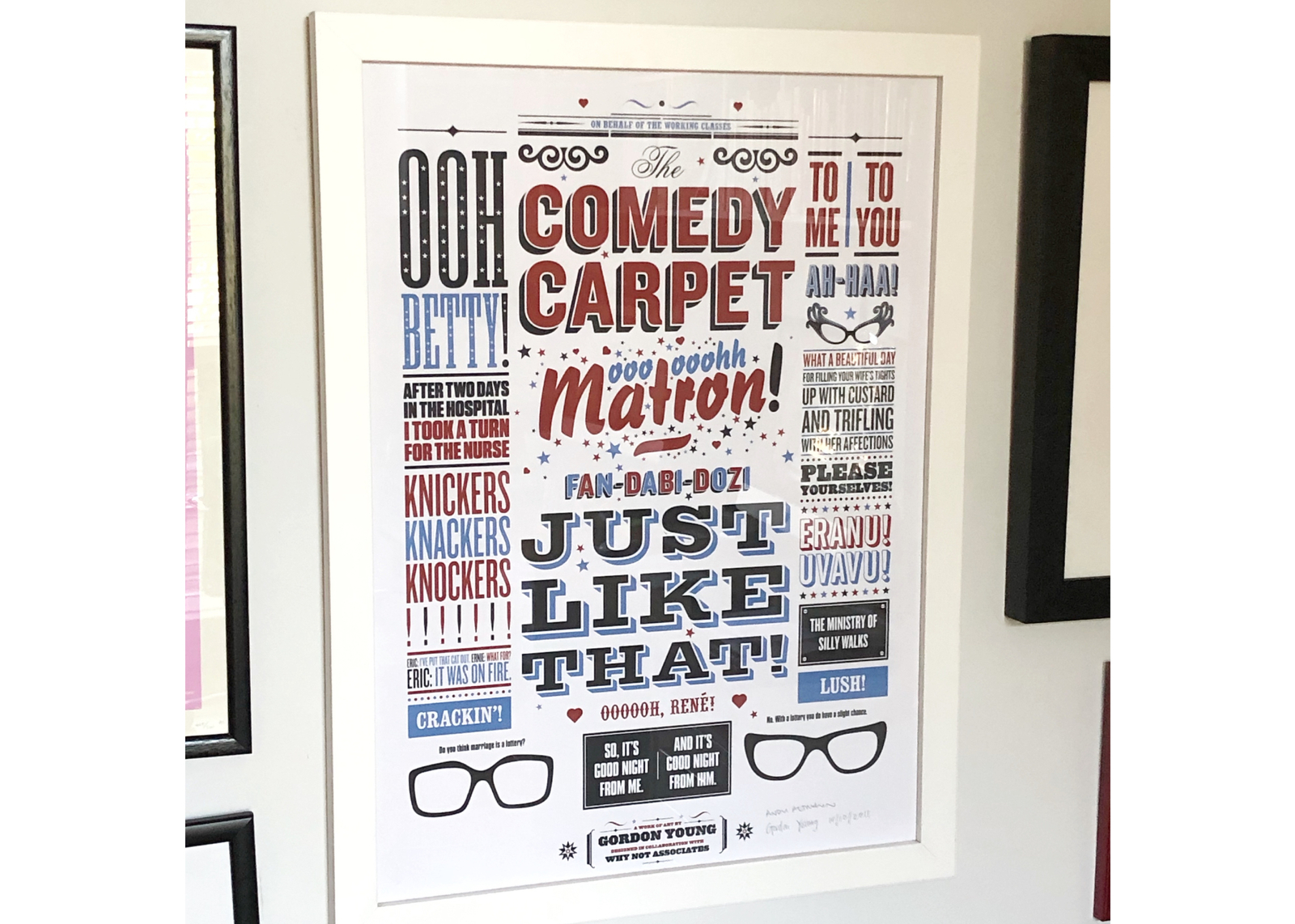 Funny ha ha: 'Comedy Carpet' detail poster by Gordon Young and Why Not Associates. Gift of Andy Altmann.
It was gratifying that several fellow copywriters of note, including Mike Reed, Patrick Baglee and Fraser Southey, took up my challenge and started documenting their artwork too. It offered a small glimpse into their houses and their lives at a time when we were all confined to barracks.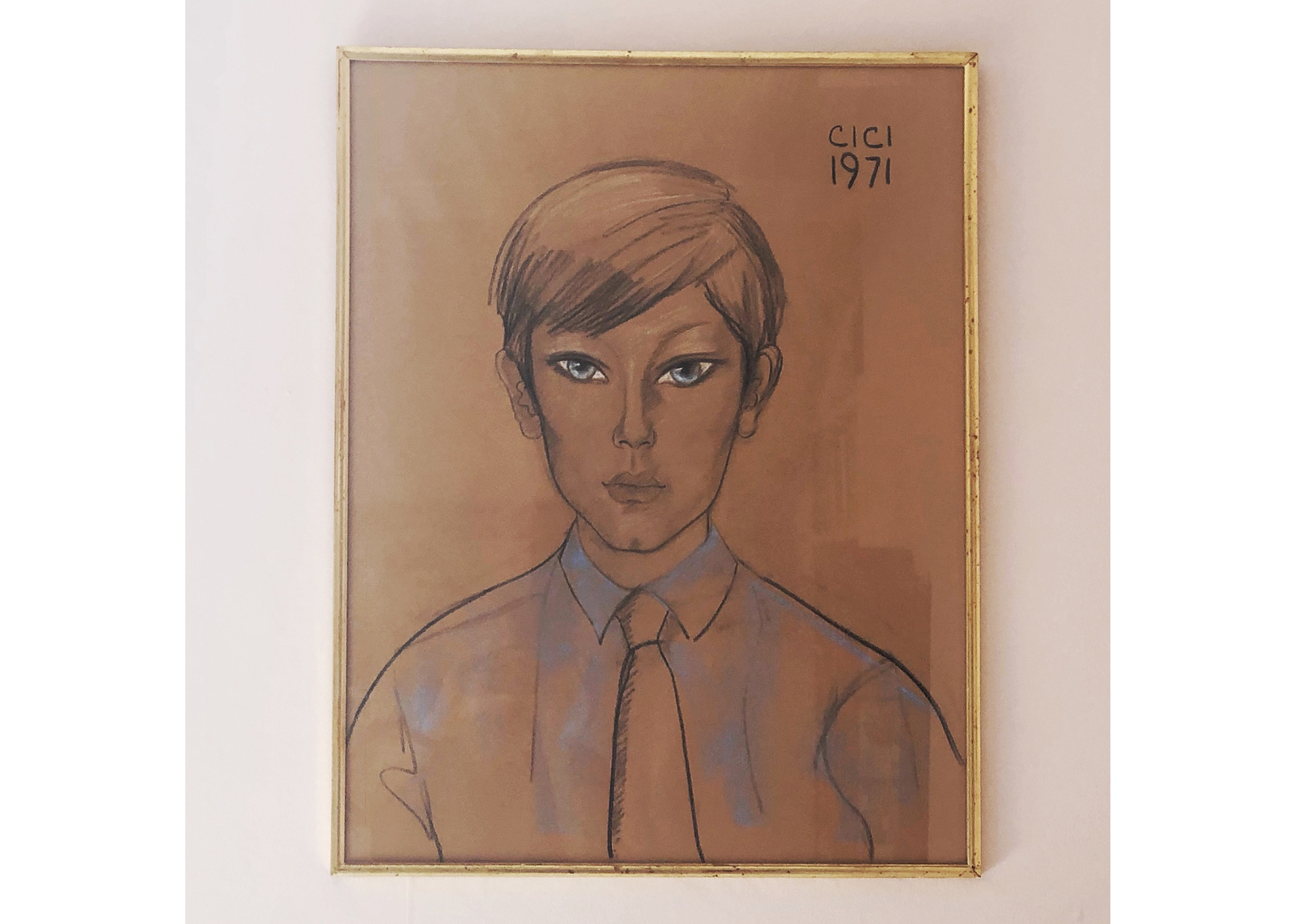 Eye, eye: Portrait of the writer as a young man by the Lebanese-Croatian artist Cici Tommaseo Sursock.
I made it to nearly 30 'Pictures in my House' posts before (thankfully) work started kicking in again. That's probably not even half. We have a lot of pictures on our walls. Who knows, they may yet put in an appearance. Watch this space.
You can get the full story on these and 23 other pictures on my Instagram account @jimkdavies.